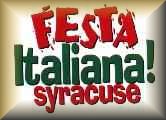 The annual Italian festival,
Festa Italiana
, continues today in front of city hall at Washington and Montgomery streets in downtown Syracuse. The event features great Italian food, games, crafts, merchandise, and of course, live music.
Today's entertainment schedule includes: Canzonie d'italia (3:15 p.m.); Dance Center North (4:15 p.m.); Jimmy Cavallo (5:30 p.m.); Esty Crisona (8 p.m.); and Stroke (9:30 p.m.). Admission is free.
Also today
Gospel Music Day featuring Diamond Someday, Sent Forth Band, Homestyle and more bands perform, plus a 5 p.m. covered dish supper, at Kellish Hill Farm (3192 Pompey Center Road, Manlius), 11 a.m. to 7 p.m. - $7.
The 219 Takeover! featuring the Vivian Girls, Beach Fossils, The London Souls, Widowspeak, and Sophistafunk at Redhouse parking lot (219 S. West St.), noon to 6 p.m. - $25 at the door.
Music for 18 Musicians at at the Everson Museum of Art (401 Harrison St.), 5 p.m. - $15 for adults, $12 for seniors, $10 for students.
Scott Dixon Benefit featuring The Black Lockets, Mandate of Heaven, Black Throat Wind, Ohne-Ka and the Burning River, Human Lanterns and Egodestroys at the Lost Horizon (5863 Thompson Road, DeWitt), 5 p.m. - $10 donation.
Luke Bryan with Josh Thompson, Lee Brice and Matt Mason at Utica Memorial Auditorium
Fritz's Polka Band at Anthony Road Wine Company, Penn Yann, 1 p.m.
Ryan Montbleau Band (Utica Music and Arts Festival)
Baka Beyond at the Center for the Arts (72 S. Main St., Homer), 8 p.m. - $25 for adults, $20 for seniors, $10 for students.
Hey You (Pink Floyd tribute band) at the Capitol Theatre (220 W. Dominick St., Rome), 8 p.m. - $25 at the door.
Southside Johnny and the Asbury Jukes at the Stanley Theatre (261 Genesee St., Utica), 8 p.m. - $26, $36, $71.
65th Annual Jordan Fall Festival with The Jam Bones and Jordan-Elbridge Marching Eagles Band, 2 p.m.
Baldwinsvile OktoberFest with Mike Estep Band and others at Papermill Island Amphitheater, Baldwinsville
BrewFest with One Sweet World, Custom Taylor Band and Jeff & Molly at Turning Stone Casino and Resort, Verona, 4 p.m.
4th Annual Last Daze Of Summer Festival at Sterling Stage Kampitheater, Sterling
At the clubs
Amber Inn (2424 Otisco Valley Rd., Marietta) – Headin' South, 9:30 p.m.
The Beginnings II (6897 Manlius Center Rd., East Syracuse) – Sheela Tucker & AboutTime Band, 9 p.m.
Bridge Street Tavern (109 Bridge St., Solvay) – Smokin' Worm, 8 p.m.
Buffalo's (2119 Downer St., Baldwinsville) – The Goods, 9 p.m.
Cedar House Bowling Lanes (813 West Genesee St., Skaneateles) - Soul Traders, 8:30 p.m.
Coleman's Authentic Irish Pub (100 S. Lowell Ave.) – Big Eyed Phish, 7 p.m.; Barnes Bros. Project, 10 p.m.
Conella's (411 W. Manlius St., East Syracuse) - Morris and the Hepcats, 7 p.m.
Creekside Books and Coffee (25 Fennell St., Skaneateles) - Kevin Dorsey and FORE, 7:30 p.m.
Cross Lake Marina Restaurant (Jordan Rd., Cato) – Fulton Chain Gang
Dominick's Sports Tavern (234 E. Albany St., Oswego) – f5, 9 p.m.
Dox Grill (9170 Horse Shoe Islnd Rd., Clay) - Tommy Barr, 9 p.m.
Fireside Inn (2345 W. Genesee Rd., Baldwinsville) – Smokin', 8 p.m.
Fusion Room (3705 Brewerton Rd., North Syracuse) – All Ages Showcase, 5 p.m.; Descending Angel, Jonestown, Redfield, Brace, Setiva, 10 p.m.
Fusion Backstage Lounge (3705 Brewerton Road, North Syracuse) - Scott Dangr Bravo, 9 p.m.
Krabby Kirk's Saloon (55 Genesee St., Camillus) - Jerry Cali, 9 p.m.
Limp Lizards (4628 Onondaga Blvd., Geddes) – Frank and Burns, 9 p.m.
Limp Lizards (201 First St., Liverpool) - Hand Of Fate, 9 p.m.
Old City Hall (159 Water St., Oswego) - Frenay and Lenin, 6 p.m.
Pricker Bush (3642 County Route 57, Oswego) – Page Nine, 9 p.m.
Red and White Café 91692 Albany St., DeRuyter) - Mark Zane and Friends, 8 p.m.
Shifty's (1401 Burnet Ave.) – Mark Macri, 11 p.m.
Silverado Inn (135 Marginal Rd., Herkimer) - Emerald City, 10 p.m.
Station 58 (3504 Brewerton Rd., North Syracuse) – Reloaded, 10 p.m.
Sunset Grill (1319 Main St., Sylvan Beach) – Rewired, 9 p.m.
Suzy's Tavern (6 Lexington Ave., Auburn) – Under The Gun
Thunder Road Bar and Grill (234 W. Albany St., Oswego) - Magical Mystery Tour, 9:30 p.m.
Waterfront Tavern Deck (Route 11, Brewerton) - Hodson and Donelan, 1 p.m.
Yesterday's Royal (13 Canal St., Sylvan Beach) – Dan Elliott and the Monterays, 9 p.m.