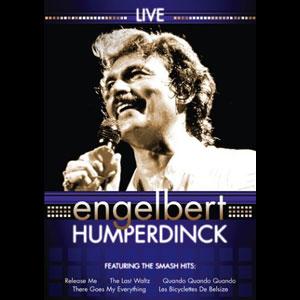 Engelbert Humperdinck performs at 8 p.m. at the Showroom at Turning Stone Resort and Casino (ThruwayExit 33, Verona). Tickets are $45, $50, and $60. Call 361-SHOW to reserve your seats.

Also Friday

OCD: Moosh and Twist with Brandon Strouse, Jay Foss, Deven Coleman and the irrepressible Deezy at Lost Horizon (5863 Thompson Road), 7 p.m. - $12 in advance, $15 at the door.
Dubl Handi with Larry Hoyt at the Westcott Community Center (826 Euclid Ave.), 8 p.m. - $10.
Conspirator with Solaris and Mister F at the Westcott Theater (524 Westcott St.), 9 p.m. - $20 in advance, $25 at door.
At the clubs
3's A Crowd at Dilaj's Motor Inn (Route 34, Auburn).
Bob and Dave (805's Dave Porter) at The Crescent (12260 State Route 12E, Chaumont Bay).
Brass Inc at UNC (125 Washington St., Auburn), 9 p.m.
Butternut Creek Revival at Creekside Books (35 Fennell St., Skaneateles), 7 p.m.
Chief Bigway with Anthrax's Joey Belladonna at Big Papa's Riverside Tavern, 501 County Route 12, Pennellville), 9 p.m.
Chris Taylor and the Custom Taylor Band with Country Swagg at Kegs (Route 31, Jordan), 9:30 p.m.
Chuck Dorgan and Jess Novak at Trapper's Pizza (5950 Butternut Drive, East Syracuse), 6 p.m.
Dave Robertson at The Boathouse, DeRuyter Lake (Boathouse Lane, South Lake Road, DeRuyter), 6 p.m.
Dave Wolever at Thunder Road Bar and Grill (234 E. Albany St., Oswego), 9:30 p.m.
Dr Killdean at Asil's Pub (220 Chapel Drive, Fairmount), 9 p.m.
Fowls, Phantom Chemistry, Leylines at Funk N Waffles (727 S. Crouse Ave.), 8:30 p.m.
Frank and Burns at Kitty Hoynes Irish Pub (301 W. Fayette St.), 9 p.m.
Grind Unplugged with ELove at Jake's Grub and Grog (7 E. River Road, Brewerton), 9 p.m.
Grit N Grace at Tin Rooster, Turning Stone Resort (5218 Patrick Road, Verona), 9:30 p.m.
Hard Promises at Meghan MacMurphy's (7900 Oswego Road, Liverpool).
Hodson and Donelan at Pizza Man Pub (50 Oswego St., Baldwinsville), 10 p.m.
Isreal Hagan at TS Steakhouse, Turning Stone Resort (5218 Patrick Road, Verona), 6 p.m.
JD RollinSouth at Two Guys Sports Bar (Route 49, West Monroe), 9 p.m.
John Rohde and Friends at bc Restaurant (247 W. Fayette St.), 8 p.m.
Just Joe at Stinger's Pizza Pub (4500 Pewter Lane, Manlius), 7 p.m.
Los Blancos at Elbow Room Tavern (122 E. Genesee St.), 8:30 p.m.
Mark Doyle and The Maniacs at Buffalo's (2119 Downer St. Road, Baldwinsville), 8 p.m.
Mark Zane and Friends at Cafe at 407 (407 Tulip St., Liverpool), 7 p.m.
Medicine Wheel at Shifty's (1401 Burnet Ave.), 9 p.m.
Midnight Mike Petroff Blues Band at Western Ranch Motor Inn (1255 State Fair Blvd.), 7 p.m.
Morris and the Hepcats at Mitchell's Pub (3251 Milton Ave.), 8 p.m.
Now and Then at The Ridge Tavern (1281 Salt Springs Road, Chittenango), 7 p.m.
Scars N Stripes at Mac's Bad Art Bar (1799 Brewerton Road, Mattydale), 10 p.m.
Soul Mine at Carnegie Café, Maplewood Inn (400 Seventh North St., Liverpool), 8 p.m.
The DBL Band at LWB's Camillus Grill (72 Main St., Camillus), 8:30 p.m.
The Fabulous Ripcords at Sharkey's Eclectic Sports Lounge (7240 Oswego Road, Liverpool), 6 p.m.
Tim Herron at Bull and Bear Roadhouse (6402 Collamer Road, East Syracuse), 10 p.m.
TJ Sacco and The Urban Cowboys at Anchor Bar and Grill (720 County Route 37, Central Square), 9 p.m.
Wayback Machine at Bridge Street Tavern (109 Bridge St., Solvay).