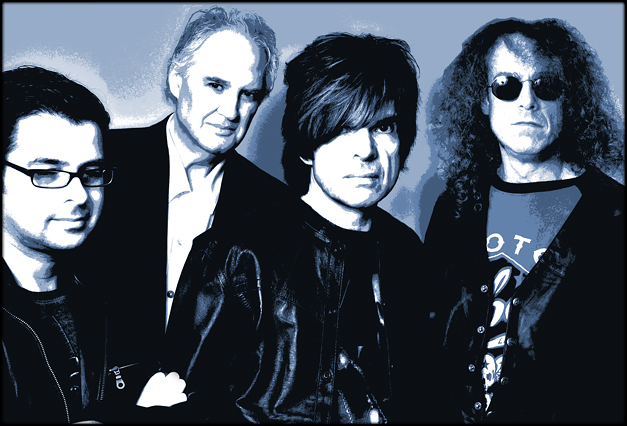 Mark Doyle and the Maniacs
Assuming the world did not come to an end yesterday, here are some great live music events taking place tonight in and around the 'Cuse.
Mark Doyle and the Maniacs at the Redhouse Arts Center (201 S. West St.), 8 p.m. -$15.
Irish Christmas in America at Cazenovia College's Catherine Cummings Theater (16 Lincklaen St., Cazenovia), 7 p.m. - $25 adults, $15 youth.
Soul Mine at Klub Polski's Goodtime Banquet Hall (526 Teall Ave.), 7 p.m. - $15 door, includes sandwich buffet and coffee.
Dark Hollow the Easy Ramblers at the Westcott Theater (524 Westcott St.), 8 p.m. - $12.clubs
At the clubs
Barndogs at Anchor Bar and Grill (720 County Route 37, Central Square), 9 p.m.
Denn Bunger at Krabby Kirk's Saloon (55 Genesee St., Camillus), 9 p.m.
Chris Taylor and the Custom Taylor Band at Kegs (Route 31, Jordan), 9:30 p.m.
Code Red at Beginnings II (6897 Manlius Center Road, East Syracuse), 10 p.m.
Dan Elliott and the Monterays at Vernon Downs (4229 Stuhlman Road, Vernon), 8 p.m.
Dave Hanlon's Cookbook at Dinosaur Bar- B-Que (246 W. Willow St.). R'n'B/Funk.
Dave Robertson at Dave's Diner at Common Grounds (35 Albany St., Cazenovia), noon.
E.S.P at Wintergarden Stage, Turning Stone Resort and Casino (5218 Patrick Road, Verona), noon.
Extremists at Captain Jack's (8505 Greig St., Sodus Point), 9 p.m.
F5 at Dominick's Sports Tavern (3435 County Route 4, Oswego), 9.30 p.m.
Fabulous Locknutz at Thunder Road Bar and Grill (234 E. Albany St., Oswego), 9:30 p.m.
Frank and Burns at Bridge Street Tavern (109 Bridge St., Solvay), 8 p.m.
Gunrunners at Candy's Hillside (6207 Rock Cut Road, Jamesville), 9 p.m.
Dave Hawthorn at LakeHouse Pub (6 W. Genesee St., Skaneateles), 9:30 p.m.
Jeff Hinman at Schepps BBQ and Bar (7119 Minoa Bridgeport Road, East Syracuse), 5 p.m.
Hotplate at Timber Tavern Bar and Grill (7153 State Fair Blvd.), 9 p.m.
Just Joe at Jake's Grub and Grog (7 E. River Road, Brewerton), 9 p.m.
Kim Fetters and Andy Rudy at Pascale Wine Bar and Restaurant (104 Limestone Plaza, Fayetteville), 8:30 p.m.
Lisa Lee Band at Cedar House (8 W. Genesee Street Road, Skaneateles), 9 p.m.
Los Blancos at Shifty's (1401 Burnet Ave.), 10 p.m.
Morris and the Hepcats at McNeilly's Pub (2802 James St.), 7 p.m.
New Day at Coleman's Authentic Irish Pub (100 S. Lowell Ave.), 10:30 p.m.
Outta The Red at Cavallos (60 Genesee St., New Hartford), 9 p.m.
Quickchange at Iona Corners Tavern (67 Memphis Road, Memphis), 8:30 p.m.
Scars N' Stripes at Mac's Bad Art Bar (1799 Brewerton Road, Mattydale), 10 p.m.
Smokin' with Jan Fetterly at Carnegie Cafe at the Maplewood Inn (400 Seventh North St., Liverpool), 7:30 p.m.
Southern Comfort Band at Castaways (916 County Route 37, Brewerton), 8 p.m.
TJ Sacco and the Urban Cowboys at Knoxies Pub (7088 Route 20, Pompey), 9 p.m.
Time Served at Alvord House (5 E. Main St., Marcellus), 8 p.m.
TippHillbillies at Schepps BBQ and Bar (7119 Minoa Bridgeport Road, East Syracuse), 8 p.m.
Tom Bronzetti and Andrew Carroll with Rick Montalbano and Tom Eagan at Empire Brewing Company (120 Walton St.), 12:30 p.m.
Vitamin X at Pricker Bush (3642 Route 57, Oswego), 9 p.m.