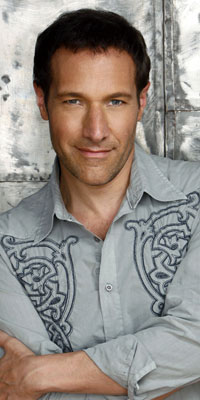 Jim Brickman
Jim Brickman
performs tonight at the Mulroy Civic Center's Crouse-Hinds Concert Theater (411 Montgomery St.). The show starts at 7:30 p.m. Tickets are $30, $40, and $50.
Also tonight
Open Mike Night at Kellish Hill Farm (3192 Pompey Center Road, Manlius), 7 p.m.
D.R.I. (Dirty Rotten Imbeciles) at the Lost Horizon (5863 Thompson Road, DeWitt), 6:30 p.m.
The Rest of Us, the Mike McKay Band, Stonelord, Meghan Tonjes and Mike Falzone at the Westcott Theater (524 Westcott St.), 8 p.m. - $10.
At the clubs
li>Tommy Connors at Kitty Hoynes Irish Pub and Restaurant (301 W. Fayette St.), 8 p.m.
El'kabong rides again at Limp Lizard Bar and Grill (4628 Onondaga Blvd.), 7 p.m.
Fab 570 at Limp Lizard BBQ (201 First St., Liverpool), 8 p.m.
Holiday Spectacle.
Fabcats at Shifty's (1401 Burnet Ave.), 8 p.m.
From This Day Forth, All the King's Horses, Creacia, One Last Shot, Thoughts in Reverse at Fusion (3705 Brewerton Road, North Syracuse), 9 p.m.
Isreal Hagan at Café at 407 (407 Tulip St.), 7:30 p.m.
Acoustic Solo.
Hendry at Coleman's Authentic Irish Pub (100 S. Lowell Ave.), 10 p.m.
Just Joe at Empire Brewing Company (120 Walton St.), 10:30 p.m.
Piano Rock.
Noisy Boys at Cobblestone Ale House (400 First St., Liverpool), 8 p.m.
Open Mike w, John Lerner at Pizza Man Pub (50 Oswego St., Baldwinsville), 7:30 p.m.
Open Mike w, Ronnie Dark All-Stars at Mac's Bad Art Bar (1799 Brewerton Road, Mattydale), 9:30 p.m.
Sirsy at Village Tavern (6 E. Main St., Marcellus), 8 p.m.
Synergy at Turning Stone Resort and Casino (5218 Patrick Road, Verona), 9 p.m.
The Intention featuring Mark Nanni at Phoebe's (900 E. Genesee St.), 8 p.m.